Check Out Priyanka Chopra And Nicholas Jonas Horoscope
Priyanka Chopra And Nicholas Jonas
The year 2018 was the year of whirlwind romances and Priyanka Chopra and Nick Jonas' was the biggest whirlwind romance of that year. Priyanka and Nick's love story sprung from a direct message on Twitter in 2016, and they began dating a year and a half later. What started from there led to a seemingly never-ending wedding celebration. Here's everything you need to know about Mr. and Mrs. Jonas. Their wedding was a lavish three-day celebration starting on December 1, 2018, and they went on to host four more wedding receptions, almost putting the royal wedding to shame.
Priyanka and Nick were engaged on July 19, 2018, when Nick went down on one knee and proposed to her with a Tiffany ring. The couple then went on to wed on December 1, 2018. Their three-day wedding combined both Christian and Hindu marriage traditions, in a palace at Jodhpur. Priyanka and Nick are supportive of each other's careers and, despite their jet-setting career and busy schedules, they have made a rule to fly out to be with each other every three weeks, no matter what. The Jonas Brothers made their epic comeback at the beginning of 2019, and Priyanka supported them through each and every moment. She watched her husband perform for the first time in Miami and had the time of her life. The Jonas Brothers' new single "Sucker" skyrocketed to number one on the Billboard Top 100. Priyanka had also premiered in the music video and she was out there with her wholehearted support for her husband.

Name: Nicholas Jerry Jonas
Gender: Male
Date of Birth: 16 September 1992
Time of Birth (Hr.Min.Sec): 12:00:00 AM Standard Time
Place of Birth: Dallas
Longitude&Latitude (Deg.Mins):96.45 W 32.47 N, 32.47 N
Birth Star – Star Pada (Quarter): Bharani – 2
Birth Rasi – Rasi Lord: Mesha – Kuja

Name: Priyankra Chopra
Gender: Female
Date of Birth: 17 July, 1982
Time of Birth (Hr.Min.Sec): 12:30:00 AM Standard Time
Place of Birth: Jamshedpur
Longitude&Latitude (Deg.Mins): 82.03 E, 25.22 N
Birth Star – Star Pada (Quarter): Rohini – 3
Birth Rasi – Rasi Lord: Vrishabha – Shukra
Nicholas Jona's Horoscope and birth chart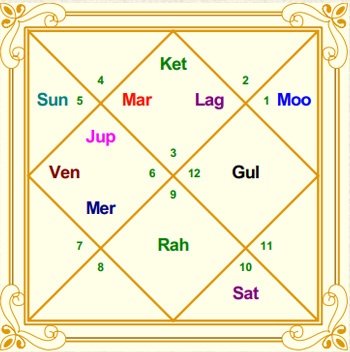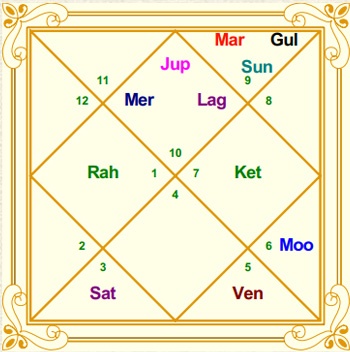 Priyankra Chopra's Horoscope and birth chart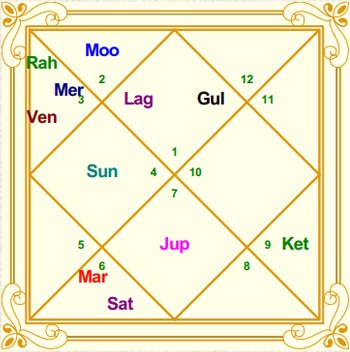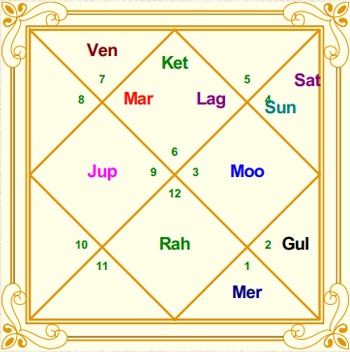 Nicholas Jonas: Personality Predictions
Nick's sign indicates him to be physically inclined, with a tall build. His most attractive features are a dimple on his face and his eyes. He is full of energy. He has interests in reading and writing, along with arts and literature, and also a fascination for mechanical sciences. His conversational skills can capture the attention of people around him. He may be susceptible to changes and can become quite restless and unpredictable. He is ambitious by nature and believes in hard work to achieve prosperity. He is clear and confident about his aims and objectives. People love to be in his company and he strikes out as a well-behaved man. His parents play a significant role in his happiness. He is very cautious and can get angry easily. He has a handsome face and charming looks and will be liked for his social behavior. He will have opportunities to reach positions of power and authority, and he must make the best of them.
Priyanka Chopra: Personality Predictions
According to Priyanka's sign, her most striking features are her beautiful, round eyes and sharp eyesight. She appreciates beauty and grace, with an appetite for good food and sex. She is scientifically inclined as it comes naturally to her and she is a woman of legality and logic. She is also a good planner, with keen observational skills. She is adventurous, proud, independent, ambitious, and enterprising. She is also prone to a quick temper at times. She makes others believe in their worth and has a positive effect on people. She is meticulous and courageous. She is destined to reach great heights and find fame. She would also be a philanthropist and would render her service to the needy. She gives a lot of importance to how she carries herself and ensures that she is presentable in fresh, clean attire.
Analysis Based On Both Horoscopes
Star Analysis for Priyanka Chopra and Nicholas Jonas
Nick's nakshatra is Bharani, and Priyanka's nakshatra is Rohini. Bharani and Rohini are ruled by two feminine planets, Venus and Moon, respectively. Both are possessive of each other; however, Priyanka is more possessive and determined. She loves Nick passionately and does not like a superficial relationship. Nick's Rohininakshatra makes him pure, beautiful, and an ambassador of peace and happiness. The pair has excellent compatibility and will enjoy a progressive life
Compatibility Analysis for Priyanka Chopra and Nicholas Jonas
This is a brief compatibility analysis of Priyanka Chopra and Nicholas Jonas based on their birth star, Rasi, Rasi Lord, and other astrological parameters.
Harmony of their personality traits
Both Priyanka and Nick are blessed with patience which helps them to tackle situations amicably; however, they must ensure to not lose their patience when they feel too overwhelmed or saturated. They genuinely connect, rather than merely asserting themselves. Both are considerate and take into account their partner's perspective. They have a level of discipline. They coincide in their taste for most of the matters which play a significant role in them getting along. They give importance to communication and an open mind. They are enthusiastic about planning their lives together and take time to focus on and appreciate one another's good qualities.
Nicholas Jonas's Yogas affecting his married life
Nick has the following Yogas in his horoscope which can influence his married life.
Kahala Yoga: This yoga gives him a stubborn nature. He will have the courage to face any situation and may jump to conclusions without collecting the facts.
Sankha Yoga: This yoga makes him humanitarian. He will be fond of pleasures and will always try to be just in what he says or does. He will have interests in science and technology, and can also expect a good life span. He will be blessed with a wife, children, and land.
BandhuPujya Yoga: Gives him respect and honor in the family circle
Satkalatra Yoga: Gives a good spouse who will be righteous and pious and adds value to his life.
Priyanka Chopra's Yogas affecting her married life
Priyanka's horoscope has the following yogas important to her married life.
Satkalatra Yoga: Gives a good spouse who will be righteous and pious and adds value to her life.
Analysis of Priyanka Chopra's and Nicholas Jonas Married Life
Stability of Marriage
Conflicts and troubles are part of marriages and this marriage too will have plenty of such instances. Jealousy, anxiety, and possessiveness can cause conflicts and this can only be overcome with love and affection. Supporting each other's goals is vital for the marriage. They should be a source of strength and inspiration for one another and must spend as much time together as possible for a deeper understanding of each other. They should find shared activities and hobbies that will help them to spend time together and feel closer to each other. Marriage can be made successful through intense devotion and dedication, without curbing each other's freedom. Exploring new practices and experiencing new places will help keep the marriage fresh. There might be periods when they may feel distant from one another, either emotionally or physically; however, they should try to keep such separation periods short and should work out their problems to create an atmosphere of intimacy whenever they are together. They should spend time indulging in romantic and passionate activities which will enhance their love for each other and foster stability in the relationship. Romance and passion will contribute a lot to a long-married life, right from the moment they enter wedlock, to the very last breath. Their binding relationship will make them happy and active and even during periods of instability, they will enjoy romance and intimacy.
Children
Nick and Priyanka will have children early in their married life. Even though their family may be small, they will enjoy the smallest joys of parenting right from the time their child is born, till they are adults. They will instill discipline and manners in their child. Their character and practice will teach their kids to value compassion and kindness. They will be proud parents of hard-working individuals. Their timely advice and support will help their kids to grow as good human beings.
Finance
Both Nick and Priyanka's horoscopes show good wealth yogas; however, they have to work hard and be well planned to acquire this wealth. There are chances of loss of wealth due to cheating, or carelessness in finances. They should be careful in their spending habits, as well as investments. Investment plans should be vetted before they are accepted. There may be minor financial issues that might affect them, but they will overcome these issues.